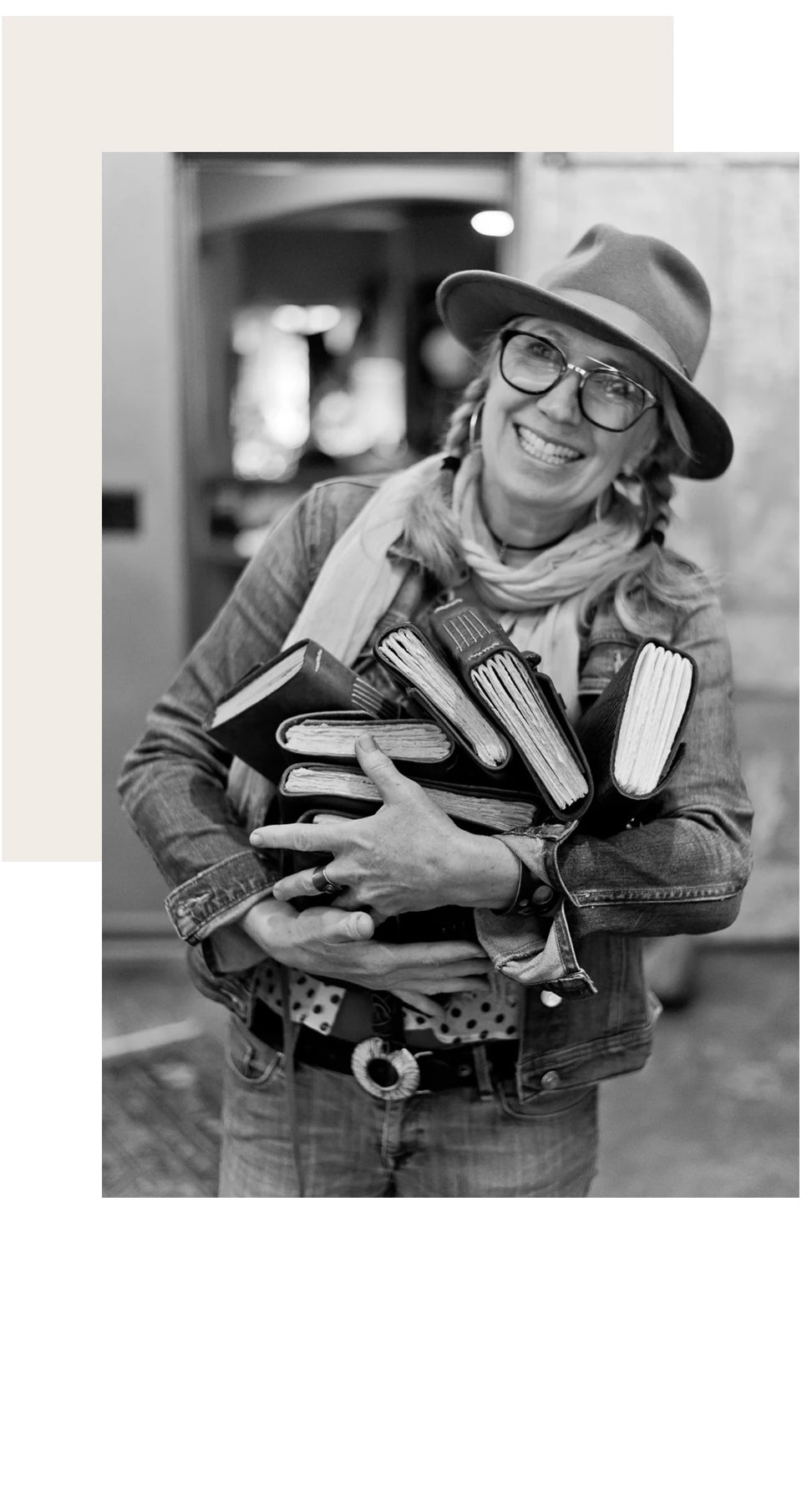 Our Story
Welcome to Iona Handcrafted Books. We are a tiny bookbinding studio in Seattle, Washington, specializing in creating books by hand, using centuries old techniques. All of our books are created with a traditional Italian design I learned in Venice in 1993. Because of their time-tested design and materials, these books are made for adventure! We use archival, acid-free papers that ensure our journals are going to be around for the long haul. As an eco-minded studio, we eagerly source earth-friendly leathers and papers, and use repurposed antique hardware pieces as closure mechanisms in our Signature line. We strive to be as gentle on the environment as possible, and hope to fuel your heart with inspiration. Welcome. We're so glad you're here.
History
Hi, my name is Mychal, and this is how it all began..
 Back in 1992, after graduating from Arizona State University's School of Architecture and Design, I took off on a fateful European adventure. Five months into my journey, my backpack was stolen by a young boy in the Termini train station in Rome, Italy. My friend Cristiano chased the thief through the crowd but was unable to retrieve my backpack. Gone were my camera, passport, money, plane ticket, several rolls of film, and most devastatingly, my journal.
 Days later, after lamenting the loss of that journal with a Venetian street-artist, I was led to his friend's bookbinding shop, and introduced to a master bookbinder. This experienced craftsman and I became fast friends, and he shared his knowledge and traditional book-making skills with me.
 A year later, and thousands of miles from Italy, in need of a new journal, I recalled those days in Venice and the lessons learned from the master artisan. Inspired, I found a scrap of leather, added some handmade paper I found in an art store, and created a brand-new journal for myself.
 Everywhere I went with that book, people would ask me where I'd gotten it, and if I could make one for them. And with that, Iona Handcrafted Books was born.
  I started selling my journals at a little street market in Seattle where my books and I were received with much enthusiasm!  I bounced off to Portland for a spell, and then spent 21 years in fabulous East Austin where the art scene was a great inspiration!  Now I've returned to Iona's roots in the lovely Fremont neighborhood of Seattle, and am thrilled to again be surrounded by like-minded people, water, mountains, and fresh air. I'm a happy girl.
 And if not for that young boy in Italy, who knows where I'd be…